Hi, I'm PTSnoop. You may vaguely remember me from the previous
CALS vs WALS
thread almost two years ago.
I originally set out to do a statistical comparison of the conlangs on CALS and the natlangs on WALS, to see what intriguing features of natural languages we conlangers tend to pay more/less attention to. Then I found out that the CALS numbers I was using had natlangs mixed in with them, realised I'd have to redo all my graphs, ran out of round tuits, got thoroughly distracted by other things, then some time later noticed I had a whole bunch of Conlangery episodes sitting in my rss feed reader and got thoroughly distracted back into the world of conlangs once again.
So here's the much-delayed more-accurate version of the CALS vs WALS study, complete with the two extra years of CALS and WALS data. This time round, I'm armed with Python webscraping and matplotlib, rather than just copypaste and Libreoffice Calc - so if I find out I'll have to redo all my numbers again, then it should be a much quicker process!
In the graphs below, green represents CALS/conlangs, blue represents WALS/natlangs. The darker-coloured bars represent the difference between the two, showing what percentage of conlangs "should" have this feature and don't, or "shouldn't" have this feature and do (as it were).
As before, I'll be splitting things up into multiple posts.
---
PART 1: PHONOLOGY AND MORPHOLOGY
Phonology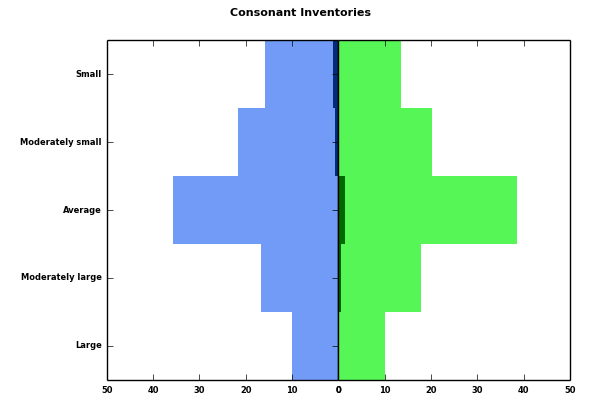 Starting off with a surprise - compared to the numbers from two years ago, the phoneme inventory sizes for conlangs and natlangs match up really well.
In general, as I've been looking through these graphs, it seems like phonology's matched up pretty well, morphosyntax reasonably well, and the big statistical differences only really show up on the clause or sentence level questions. I've generally concentrated here on the graphs showing big differences between conlangs or natlangs - if I've missed out a graph, then that's likely to be because conlangs and natlangs have this feature in pretty similar distributions.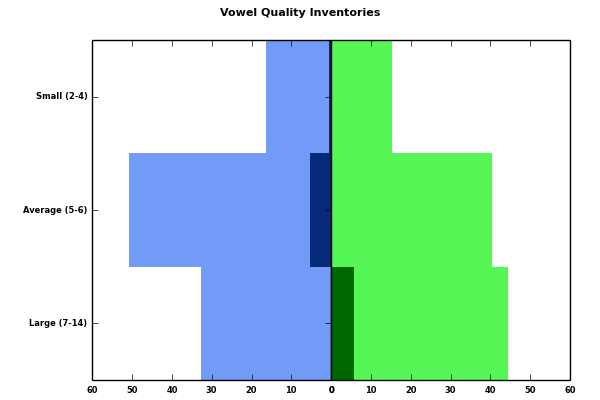 Slight tendency here towards large inventories. Possibly the larger more-interesting Indo-European vowel systems are pulling things off balance here.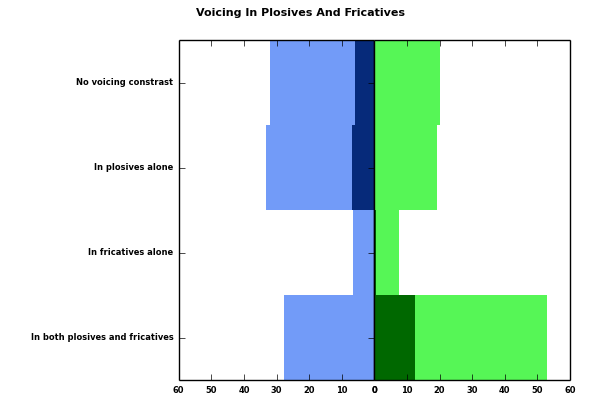 I'd be tempted to describe this one as a tendency towards being consistent - if you've got voiced plosives, then you'll be voicing the fricatives too. But that wouldn't explain the lack of no-voicing-distinction languages... Maybe people just like voicing.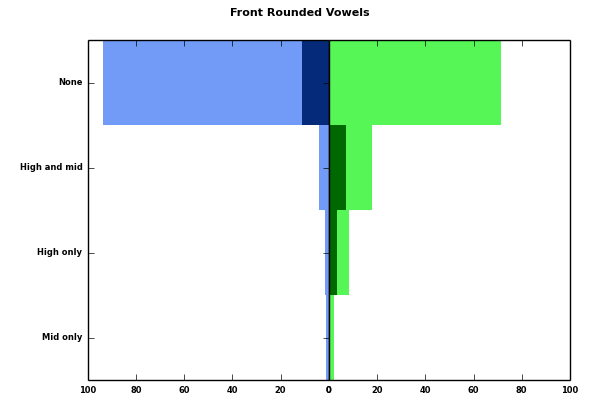 Here we see more conlangers going for the more "interesting" vowel systems.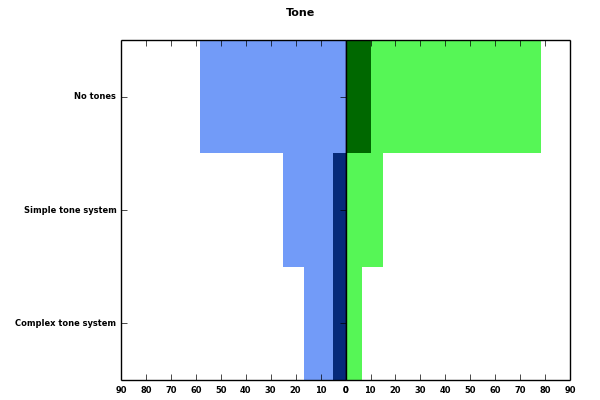 Last time, I remember being surprised that the tonal-conlang and tonal-natlang values weren't further apart. Since then, it looks like the values have got even closer - apparently there are a lot more tonal conlangs than I'm aware of. We could still do with some more, though!
Conlangers seem to favour irregular stress patterns here, with "none","both" and "don't know" all favoured at the expense of the humble trochee. Iambs seem to be holding their own, though.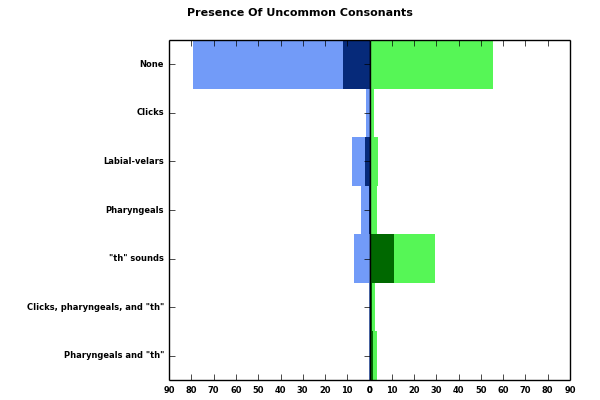 Unsurprisingly, the big winner here is the conspicuously-English dental fricative /θ/, turning up in over 30% of conlangs surveyed but only 7% of natlangs.
Morphology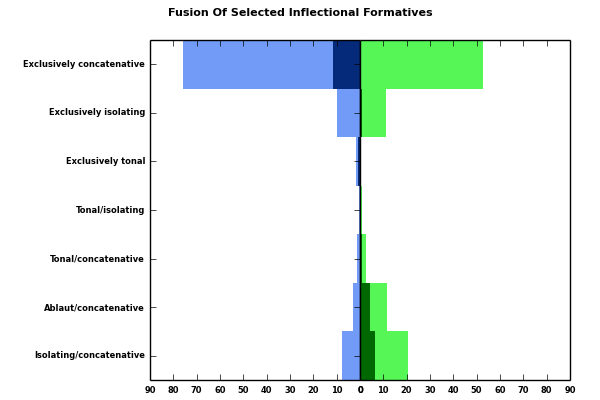 Not what I was expecting here. I'd have thought conlangs would generally be straightforwardly concatenative, but apparently here we see the opposite - more isolation and ablaut making things more interesting.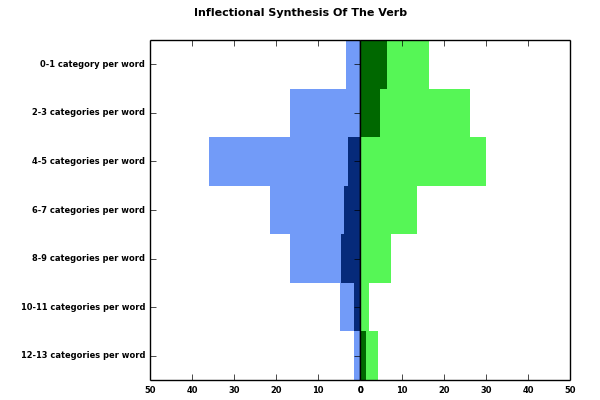 In general, conlangs have fewer categories per verb than natlangs - until we hit the extreme heights of 12-13 per word, where the kitchen-sink conlangs outnumber the natlangs. It seems conlangs are generally tending towards the extremes here.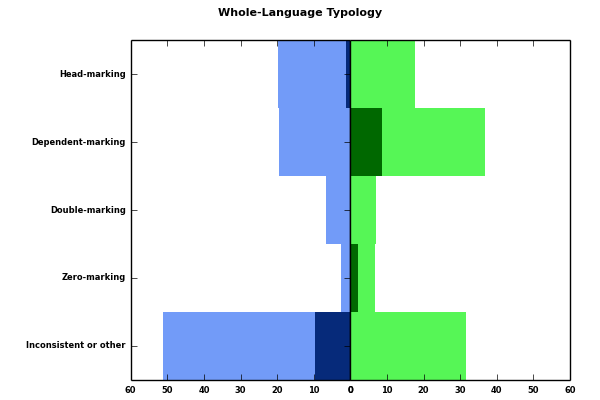 Here, we see conlangs being neater and more regular than natlangs. We've got an excess of normal straightforward dependent-marking languages, and a lack of "inconsistent or other".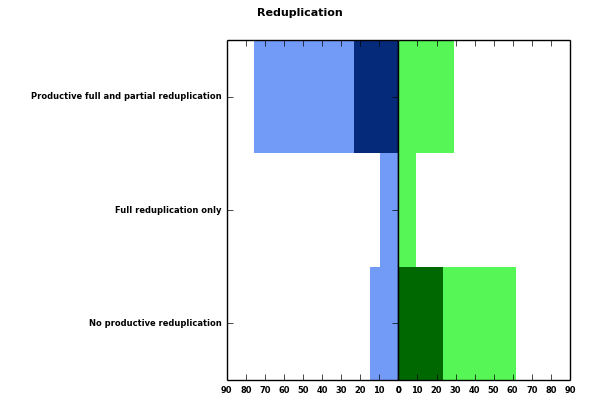 One of the clearest trends so far - conlangs don't really do reduplication anywhere near as much as natlangs do.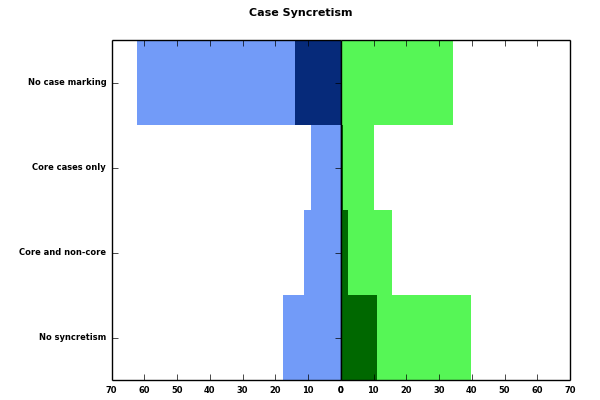 Two things to take away from this graph. First, that conlangers like explicit case-marking - possibly trying to be non-English again. Secondly, even if we look only at the languages that do have cases, we can see that the conlangs are weighted much more towards "no syncretism" than the natlangs.
---
Coming soon: Nominal Categories and Nominal Syntax.